The terroir of la Vendémiaire
Our wines are produced and aged with the greatest care in the largest natural classified site in Languedoc-Roussillon, the rugged La Clape mountain, recognised as a Site Natura 2000 by the European Union.
LA CLAPE
A HISTORIC
TERROIR
In Roman times, this was a peninsula, then called "Insula laci " because of its many lakes, the remains of which can be seen in the Oeil Doux chasm. The La Clape mountain is situated at the gates of Narbonne in the heart of the "Parc Naturel Régional de la Narbonnaise en Méditerranée".
It was in the XIVth century that the La Clape mountain naturally became attached to the continent and at the same time, lost its trees, accentuating its erosion. Since then, it carries the name which means "lots of stones" in the Occitan language.
The La Clape mountain extends over seventeen kilometres in length and seven kilometres in width. It presents unusual landscapes, blending vines and vast pine forests, hills and valleys where the garrigues (scrublands) dominate the Mediterranean majestically from the heights of rocky plateaux.
It benefits from an incredible richness of plant diversity: laburnum, cistus, honeysuckle, thyme, Aleppo pine, kermes oak or wild olive trees.
A real historic terroir, winegrowing began here in the Roman era. Julius Caesar offered parcels of the La Clape mountain to several legionnaires of his army and they then planted vines on the hillsides.
The red wines represent the majority of the production, however, the specificity of the La Clape wines lies in the white wine with the Bourboulenc variety being relatively widespread.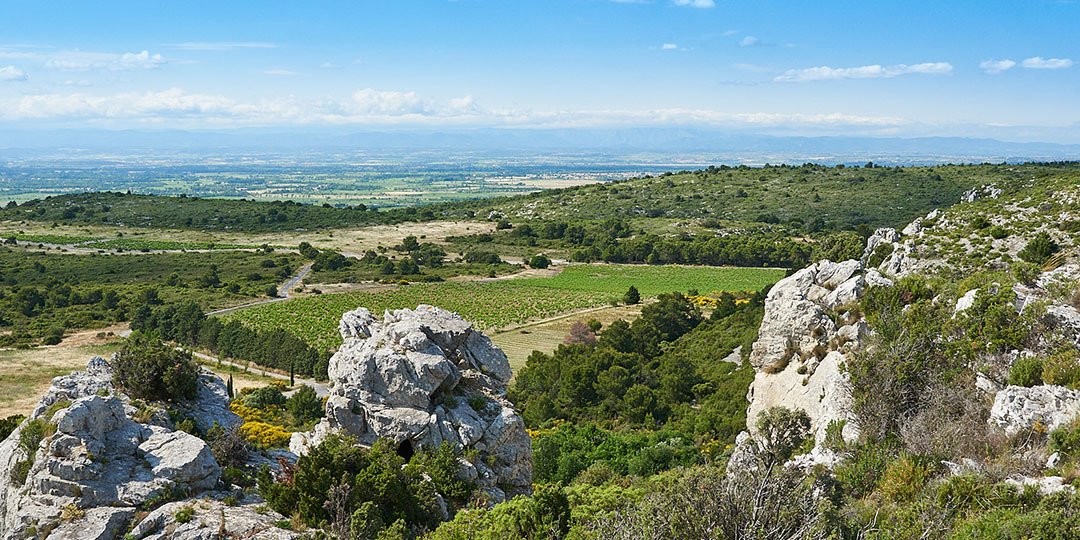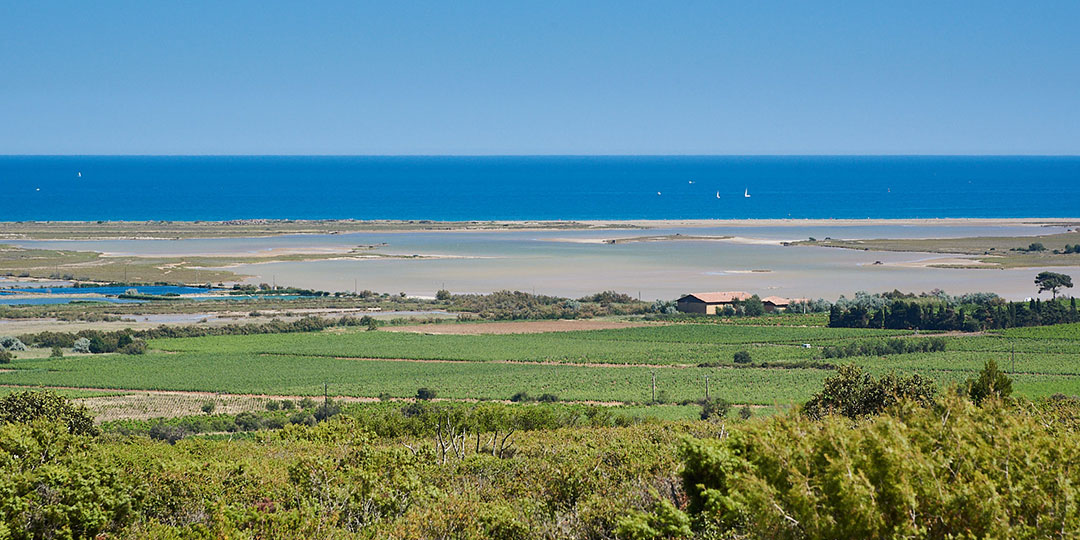 A FAVOURED
LOCATION
The vineyard of the La Vendémiaire cooperative cellar benefits from an exceptionally favoured location, between the sea and the garrigue on the one hand and the alluvial zone of the Aude on the other. Overlooking the sea, the different grape varieties like Bourboulenc, Grenache, Merlot and Cabernet flourish, providing all the subtleties of the terroir.
Both round and fresh, the whites are floral, fruity, mineral and iodised. The reds are deep, ample and structured. The rosés have a bouquet of little red berries.  They are fruity and well balanced on the palate.
La Clape, apparently a dry, hostile environment at first sight, hides its richness. Slivers of limestone, red earths, marls, sandstone, very varied soils explain the grape varieties cultivated.
The wines benefit from exceptional climatic conditions: a very sunny Mediterranean climate (up to 3000 hours of sunlight per year), low rainfall, proximity to the sea, different winds. This brings an unmistakeable typicality to the production.
It is this strong alliance between exceptional assets offered by nature and the savoir-faire of the winegrowers and the various participants which give birth to the wines of character of La Vendémiaire.